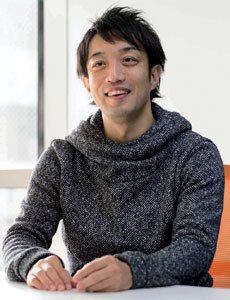 Hiroki Inagawa, President and CEO
Ever since smartphones made an entry into the market, the 'appification' of businesses started becoming a significant part of every organization's growth strategy. The massive proliferation of enterprise applications has created an abundance of cost-effective and engaging alternatives to the traditional enterprise tools provided to workers. Therefore today, as the modern workforce continues to ride on the app bandwagon, it is safe to say that every organization's success mantra has become one: "Appify or perish."
Evidently, as an upshot of these trends, mobile enterprise applications as an industry—which was an esoteric and untested sector 10 years ago—has now become a bona fide business that show quantifiable traction among organizations worldwide. The question is no longer whether or not the enterprises will use the app or whether they can generate revenue. Now the question is, "What's next?" At Monstar Lab, this is the question that the company's skilled application development team endeavors to answer every day. From games to general utility, e-commerce and more, the global digital product development agency leverages their development team's proficiency and expertise to design and develop mobile apps that aim to meet (often exceed) client needs.
Your Strategic Development Partner
At the heart of a successful enterprise mobile application is a sound strategic development plan. Although continuous improvement activities following the creation of the application have come to hold significance in recent years through the usage of methodologies such as agile development and lean startup, however, insufficient planning during the initial phases can inflate costs incurred during the development and operation stages. "This is where our core competencies lie. Our robust, all-inclusive planning capability is what makes the company an ideal strategic partner," says Hiroki Inagawa, President and CEO of Monstar Lab. Using highly experienced, professional, and creative personnel, Monstar Lab plans and proposes app development strategies based on a company's business goals and assets, as well as competitor surveys and market trend research. Combining both business-oriented and technical perspectives, Monstar Lab then builds cross-platform applications that guarantee maximum growth and minimum project cost.
Over the period of last 12 years, Monstar Lab has handled the development of over 900 apps and web services; constantly adopting the latest and most appropriate technologies, and standardizing its organizational structures and workflows to achieve the highest levels of quality.
At Monstar Lab, we believe that success follows when one makes the right choices
Together with that, Monstar Lab persistently offers a variety of development methodologies, work setups, and pricing schemes, to cater flexibly to a wide range of clients to meet their particular requirements and organizational standards.
Apart from the application development, Monstar Lab, as end-to-end solutions provider offers valuable technical consultancy services to its massive customer base throughout the project lifecycle and posts the project going live as well. In the operation and maintenance phase, Monstar Lab allows its clients to choose from various contract formats that cater to their different organizational setup and needs. The services include everything from contracts that offer full operational frameworks to implement aggressive growth strategies for clients' services, to those which handle small scale functional improvements, modification and repairs, and the bare minimum amount of necessary maintenance.
Meeting Customer Expectations with Optimized UI/UX
When it comes to meeting customers' business expectations, going above and beyond the call of duty is Monstar Lab's secret harpoon that has helped them build long-lasting and win-win business relationships. Leveraging a combined experience of software engineers, UX designers, architects and data scientists under one roof, Monstar Lab's development team meticulously plans, designs and develops user-centric mobility solutions that ensure better customer engagement that creates a lasting impression on the users' minds. "Our thoughtful user interface designs not only brings a 'wow factor' but also makes the user operations amazingly simple," highlights Inagawa.
Tapping Into the Lucrative 'Mobile Gaming'-Verse
Monstar Lab also has a dedicated division that specializes in the development of mobile games, offering services that utilize our comprehensive capabilities, encompassing everything from planning and design to development, sound mixing, and actual operation. "When developing mobile games, it is important not only to formulate entertaining ideas that will engage the users, but also to develop plans in a calm and level-headed manner, to include auxiliary strategies that could be used to perk up the game later," mentions Inagawa. Employing this approach, Monstar Lab's experienced planners—who have worked on various projects, from small-scale, casual games to major titles—have supported their clients in the creation of some of the most highly entertaining games. At the same time, Monstar Lab's professional team works to improve and enhance users' overall gaming experience: from UI/UX design and the production of 2D and 3D illustrations to in-game sound. "To date, we have handled numerous large-scale game titles in Japan.
Based on detailed data analyses, our directors also propose various measures and improvements to the game specifications," mentions Inagawa.

Citing an example, Inagawa describes a pet breeding simulation game developed by their team for the client Sammy Networks Co. Ltd. This mobile gaming app gives the player an experience of having their pet in a virtual world, while collecting specialty items (rewards) from all over Japan. "One can collect more rewards to open up a wider range of interchangeable costumes and content. After the initial success of the game, we also added social networking features to the game so that the players could share their progress with other gamers," informs Inagawa.

One Stop Service to Build and Deliver Your Wearable App

With years of experience in developing mobile applications, Monstar Lab is now committed to expanding their market to other connected sectors as well. "One such industry is the wearable app marketplace. With the ever-growing prominence of health and fitness trackers, wearable apps present the potential of emerging as the 'next big thing' in the application industry. That makes us all the more fascinated to step our foot in this segment," says Inagawa. The design and development of wearable apps is challenging and requires an approach that is radically different from the development of smartphone apps. Wearable devices have smaller screens, usually with unique methods of input, and are constantly adapting to the surrounding usage environment. Monstar Lab thoroughly understands these challenges and has created an exclusive minimalistic design approach to address them and provide end users with a smooth and enjoyable experience with wearable devices. "We not only offer assistance in building wearable apps, but also support the client for cloud hosting and big data storage to expand the capabilities of their application. Apart from that, when your application is ready to run, we will also provide services for expanding marketing channels and analytics to attract users to your application," elucidates Inagawa.

"With years of experience in a developing mobile applications, Monstar Lab is now committed to extending their expertise to other connected sectors as well. One such industry is the wearable app marketplace"

Marching Into a Brave App World

"At Monstar Lab, we believe that success follows when one makes the right choices," says Inagawa. Driven by such vision, Monstar Lab is committed to embracing more challenges in the coming days and building applications for diverse industries worldwide. Already having a strong presence in 12 countries—namely Japan, UK, Denmark, Germany, Netherlands, Czech Republic, Singapore, China, Philippines, Vietnam, Bangladesh, and Thailand—within a couple of years, Monstar Lab's moonshot goal is to 'appify' all significant business markets across the globe.

- Pooja Ray
March 07, 2019