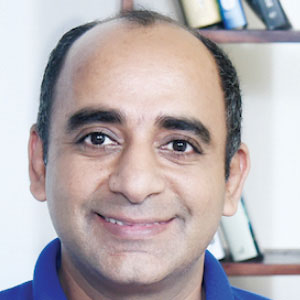 Anuj Khanna, CEO
Affle is a global technology company with a proprietary consumer intelligence platform that delivers consumer engagements, acquisitions and transactions through relevant Mobile Advertising. Founded in 2005, the company aims to enhance returns on marketing investment with two separate platforms for consumers and enterprises.
The Consumer Platform provides services to advertisers and publishers including brand marketing, ad fraud detection, user acquisition, re-targeting, and ad & data monetization. The brand marketing service is delivered in a single platform that meets all mobile advertising requirements wherein features like audience targeting, video and ad media experiences, multiple and special (in-game native ads/TV synced mobile campaigns) integration options are offered. Detecting scams in real time, the ad fraud detection system includes features like multi-type detections, real-time blocking, and interactive dashboards. "We aim to address industry challenges including digital fraud and data privacy through technology innovations," states Anuj Khanna, CEO of Affle.
A unique feature of Affle's Consumer Platform is user acquisition where this end—to—end platform helps in acquiring new customers for the apps/services, and by utilizing predictive analytics, the platform identifies users likely to convert. It might so happen that a website may attract lots of traffic, but if there are no conversions or sales, the whole point of SEO optimization becomes futile.
We aim to address industry challenges includingt digital fraud and data privacy through technology innovations
Precisely this is where a client can utilize Affle's re-targeting solution Vizury to re-engage inactive users onto their website by utilizing well-calibrated display ads. Vizury can significantly help in business growth by increasing conversions and boosting engagement while providing an enhanced user experience.
On the other side, Affle's Enterprise Platform empowers offline businesses for a mobile world by continually innovating and building apps. An offline enterprise looking to embrace an online economy can utilize this platform, which offers solutions like O2O enablement, IoT experiences, and analytics, process improvement. By enabling O2O commerce for B2B, complexity is considerably reduced with the consolidated management of multiple business models, channels and markets. While it allows B2B organizations to accommodate an array of suppliers, distributors, and stores on a single platform, it also automates sales administration. Moreover, O2O enablement helps to maintain the operational efficiency by integrating various existing POS systems and ERPs to the architecture. The Enterprise Platform also provides services for the native platform and cross-platform app development. The company's experienced mobile app developers have designed and deployed multiple native mobile apps for enterprises across multiple industries as well as helped organizations develop cross-platform apps.
With over a decade of experience in the mobile applications sector, Affle has served numerous industries to solve complex technology challenges through their expertise. Some of the industries being catered to include enterprise system software, healthcare, public sector and government, retail and e-commerce, real estate, sports, media, entertainment, telecommunication and ISP, travel and transportation. Affle believes in a client-driven method to innovation, which has led them to serve several esteemed clients over a period of time. With the technical know-how gained from catering to numerous industries, Affle aims to march further into the mobile applications sector.